Tuesday, December 20
Bobby Halton, Fire Engineering Editor in Chief, Passes Away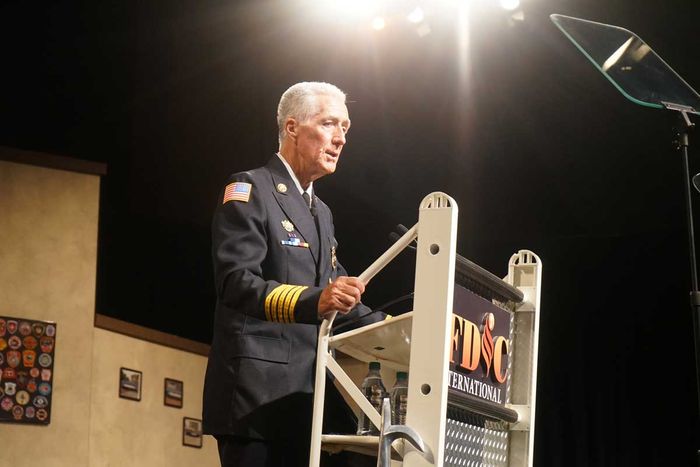 It is with great sadness that the Fire Engineering/FDIC International and Clarion Events family announces the unexpected passing of Chief (Ret.) Bobby Halton, editor in chief of Fire Engineering and Educational Director for FDIC. Chief Halton passed away at his home in Oklahoma Monday night, December 19th, 2022. Halton served as our editor for the past 18 years. Halton led the editorial team and helped build the FDIC into the largest fire service educational conference in the world.
"We are devastated by the news of Bobby's sudden passing. Bobby was a larger-than-life personality who dedicated his life to God, family, and the fire service. Bobby spent his life in service of others and his impact serving as VP of Education and Training for Clarion Fire & Rescue, was a source of great pride and personal responsibility. This is a major loss for the Clarion family and the fire service. In this difficult time, we offer our deepest condolences to Marcia, Dean, Ryan, Evan, and the entire Halton family," stated Eric Schlett, Executive Vice President, Clarion Events – Fire & Rescue.
Chief Bobby Halton was a native New Yorker. He began his career in structural firefighting with the Albuquerque (NM) Fire Department and rose through the ranks to include chief of training. Halton was chief of operations until his retirement from Albuquerque in 2004. He then became chief of the Coppell (TX) Fire Department. Halton left Coppell to assume the duties as editor in chief of Fire Engineering.
Chief Halton was a graduate of the University of New Mexico, left a member in good standing with the International Association of Fire Fighters, was a member of the International Association of Fire Chiefs, and has served on several of the National Fire Protection Association technical committees. He was active with the National Fallen Firefighters Life Safety Initiatives as well as the Firefighter Cancer Support Network. He was a passionate fire service advocate, speaker, author, and friend to so many.
"There will never be another Bobby Halton. He defied the odds with cancer and lived his life to the fullest. His passion for history, his love for America, and his understanding of the fire service made him an incredible voice for our profession. He was a trusted friend and mentor who has been a major part of my life for the past 20 years. Working directly with him full-time for the past 5 months has been a blessing that I will treasure forever. His life was service. I will miss you my friend." Chief (Ret) David Rhodes, Atlanta Fire Rescue Department, Content Strategist Clarion Events.
"Bobby was an iconic individual who left the fire service better than he found it. He believed in family, trust and loyalty and there were not many like him." Captain (Ret.) Michael Dugan, FDNY
"The fire service just lost an incredible fire service mentor and leader. I just lost my big brother. He was an incredible man, father and husband. He was one of my best friends and I am so blessed that I just got to spend the weekend with him in Hawaii where my son also spent time with him. Very few people will ever have the impact on people lives and the fire service as Bobby did. He changed the fire service. His passion and love for the fire service was second to none. I will miss my big brother so much." Chief (Ret.) Rick Lasky, Lewisville Fire Department, TX.
"Bobby Halton represented the core essence of the fire service. Working with him for years on Fire Engineering magazine, FDIC, and other projects, I witnessed his unwavering devotion and love for firefighters. He always kept firefighters as his focus and mission, making sure that they received the best training possible. He wove his editorials into philosophical motivators for many readers, encouraging them to think and act. Bobby was a unique firefighter who touched many lives His presence will be sorely missed at Fire Engineering, FDIC, and in the fire service itself." Glenn Corbett, Technical Editor, Fire Engineering
"Bobby will never be gone for those who love our calling. His legacy is woven within the fabric of firefighters across the world who pursue our craft with passion and gratitude. No one has impacted how I think about the fireground and firefighting more than my mentor, brother and friend. He believed in you and me in a way that was contagious and inspirational, and I believe still does today. Thinking of him catching up with Bruno and Brennan, swapping stories and laughs makes me happy. This world, and my own personal walk in it, now has a hole I can't quite believe and it is terribly sad. Such is the impact of a true leader, legend and authentic man of faith. Salute my friend. I look forward to the day when our Lord looks at you and says, 'Well done thou good and faithful servant.' Well done indeed." Captain (Ret) Mike Gagliano, Seattle Fire Department
"Bobby was such a big part of our lives. He was so talented and passionate. Everyone touched by him is not only a better fire officer but a better person. He has been such a big part of my life. I know he would want us to carry on and keep working hard every day to make each other better." Captain Bill Gustin, Miami Dade Fire Department, Technical Editor, Fire Engineering
Arrangements are being made at the Dighton Moore Funeral Service 116 N Main, Owasso, OK 74055.
Photos by Tony Greco and Tim Olk.