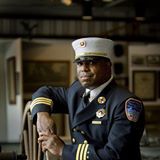 Leonard Carmichael Jr.
Deputy Chief of Operations (Ret.)
,
Trenton (NJ) Fire Department
United States
LEONARD CARMICHAEL JR. retired as the Deputy Fire Chief of Operations for the Trenton (NJ) Department of Fire and Emergency Services. He was the keynote speaker at FDIC 2008 and participates as a hands-on instructor and a lecturer for FDIC International. Chief Carmichael is credentialed as a Type 3 IC and Operations Section Chief with the State of Florida Office of Emergency Management. Chief Carmichael has also served as the Special Operations Coordinator for the Trenton Fire Department and is a Public Safety Dive Instructor with PADI.