Tuesday, September 27
FDIC® INTERNATIONAL 2021 RANKED 8TH OVERALL AT TRADE SHOW EXECUTIVE'S GOLD 100 AWARDS & SUMMIT!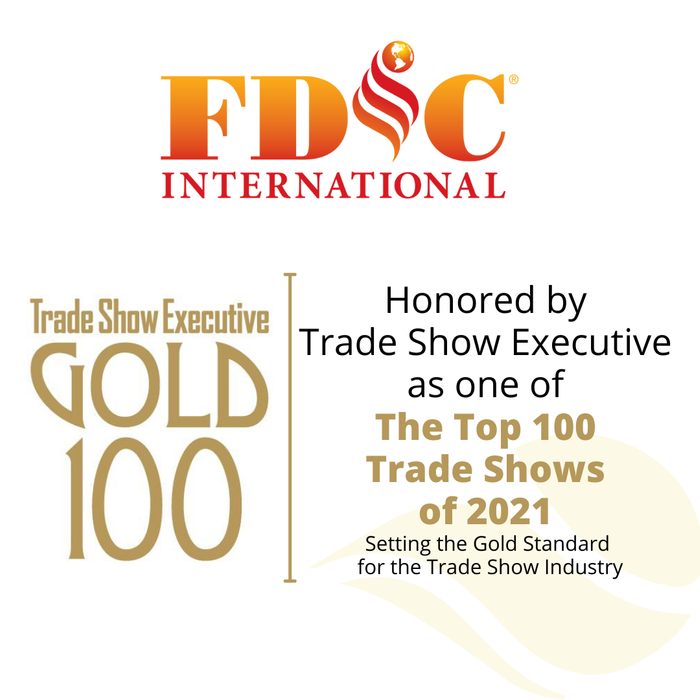 (Sept. 27, 2022 – Rochelle Park, NJ) – We are pleased to announce that FDIC International 2021 was recognized and ranked as eighth overall at Thursday night's Trade Show Executive's Gold 100 Awards & Summit at the Ritz-Carlton Bacara, in Santa Barbara.
"A big congratulations to the FDIC team for being recognized for their hard work, determination and dedication to bringing the fire service industry a world-class event year after year," said Eric Schlett, Senior Vice President, Clarion Events Fire & Rescue Group. "I also want to extend my gratitude to our attendees, exhibitors and sponsors, as well as the city of Indianapolis for their continued support throughout the years!"
Trade Show Executive's Gold 100 Awards & Summit salutes trade shows that set the Gold Standard and spotlights exceptional shows. FDIC International was the only fire rescue event to be honored in the list of 100.
FDIC International 2021 took home not one, but two recognitions, including the Staying Connected Award, for the Metro Officers Innovation Briefing.
Created after countless interviews with attendees and exhibitors, The Metro Officers Innovation Briefing at FDIC was designed to bring together decision-makers (fire chiefs and officers) to learn about innovations in the industry, both from their peers and from sponsors. The fire & rescue industry was on the front lines of the pandemic, facing untold challenges and hardships in keeping the public safe. As the PPE shortage intensified, our chiefs reached out to us to put them in touch with their counterparts across the nation to try and find a solution and learn how others were coping. FDIC International organized the first virtual meeting in late April of 2020 with the simple goal of allowing them the opportunity to discuss what they were facing and share solutions with one another. FDIC's Metro Officer Meetup was born. Since 2020 we have held nine virtual Metro Officer Meetups and two in person, doubling the group in size to include over 235 participants.
"I am proud of the team for shifting their focus throughout COVID to develop the virtual Metro Officer Meetups, to then bringing it full circle for our first in-person event of the Metro Officers Innovation Briefing at FDIC International 2021. While COVID derailed our planned live event launch, the ability to provide our attendees something they needed, staying connected to their peers, further proved our brand as a trusted resource for them."
FDIC International 2023 will be hosted April 24-29 in Indianapolis, Indiana, and registration will be opening on October 10, 2022. For more information, please visit www.fdic.com.
---
About FDIC® International
FDIC® International offers thousands of Fire & Rescue professionals from around the world quality world-class instructors, classrooms, workshops, H.O.T evolutions, and the most innovative products and services available to the industry displayed by over 800 exhibiting companies. The FDIC® Experience is more than your traditional trade show it's about the learning and sharing with your peers formally and informally through hallway conversations, developing life-long friendships, and recharging your passion for the industry. There is no other event like FDIC® International and to experience it, you simply have to attend.
About Clarion Events
Clarion Events, Inc., Clarion's North American Headquarters, produces 50 events across 12 sectors, including trade and enthusiast events. Clarion Events, Inc. is the U.S. division of Clarion Events, UK, and backed by The Blackstone Group, and has become one of the fastest growing event companies in the United States with aggressive growth through acquisition, launch, and innovation. Clarion acquired PennWell in early 2018, bringing 4 Tradeshow 200 events into the U.S. portfolio and super-charging the already rapid growth.
For inquiries please contact:
Lauren Ocoma, Group Vice President Marketing
lauren.ocoma@clarionevents.com