Monday, March 20
The Fire Rescue Station of the Future will be Showcased at FDIC International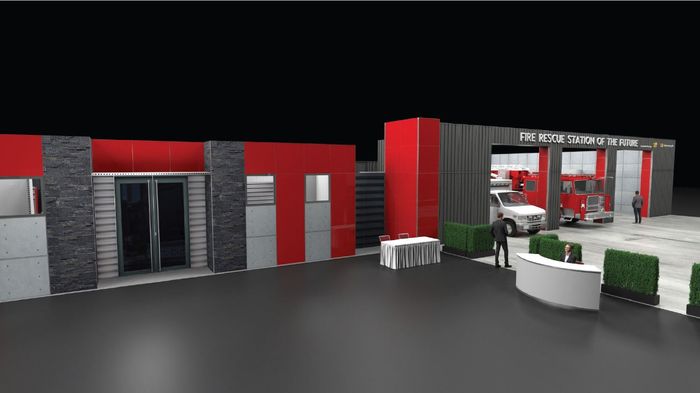 Melville, NY — For the first time, FDIC International 2023 will feature the "Fire Rescue Station of the Future," an interactive showcase of cutting-edge design and products. Designed by H2M architects + engineers (H2M) and featuring more than 30 additional sponsors, this walk-through exhibit of a futuristic station will look at essential programmatic changes to the current fire station model.
As the world responds to climate change, advanced information technology, and an ever-growing list of significant health risks, the global market is seeing a shift towards electric vehicles, net zero emission buildings, technology-heavy systems, and many other forward-thinking ideas. Fire Rescue stations are no exception and, in fact, are at the forefront of change.
Change comes with questions: How will current fire/rescue station designs evolve to accommodate these new needs? How can we charge a growing number of electric apparatus and support vehicles? How can we manage the electric service of a building while dealing with local codes and ordinances for proper fire separation and fire suppression systems? Can fire stations accommodate battery storage technology? Will drones and robots become common? Will biometrics become the new standard for measuring the health and well-being of responders? How can we retrofit existing stations with these ideas and equipment so that all battalions are prepared for the future? What does a truly futuristic station look like? The Fire Rescue Station of the Future exhibit will answer all of these and more.
Located in the Lucas Oil Stadium, H2M's Architects and Station Designers will be offering tours of the Station for all attendees seeking firsthand answers to these questions. Attendees will navigate through the exhibit, exploring exciting new building and room designs with new equipment/products in each. Explorable spaces will include: bays with brand new electric apparatus, robots, drones, and the state-of-the-art apparatus support; decontamination and transition zones and laundering facilities that will bring visitors from the traditionally "dirty/red" side of the building to the "clean/green" side; cutting-edge training rooms where presentations will be offered throughout the conference; a top of the line command and dispatch center; modern living quarters and exercise room; and an outdoor/well-being area.
Join us this April at FDIC International 2023, in Indianapolis, IN and witness the beginning of the Fire Rescue Station of the Future. Tours will be offered during exhibit hall hours on Thursday, April 27 – Saturday, April 29, 2023. Find out more about FDIC International and register to attend online at FDIC.com.
Celebrating 90 years, H2M is a full-service consulting and design firm offering the expertise of more than 500 architects, engineers (water supply, civil/site, structural, M/E/P, wastewater and environmental), planners, designers, inspectors, surveyors and scientists. Our professionals combine their technical experience and specialized market knowledge and respond to our clients' needs. H2M is proud of its long history of client service and consistent ability to meet architectural, engineering, and environmental challenges head on. H2M offers a practical approach, with creative results. H2M Architects & Engineers, Inc. is part of the H2M group of companies consisting of H2M Architects & Engineers, Inc., H2M Associates, Inc.; and H2M architects + engineers. For more information, please visit www.h2m.com
###